Promoting British Values at Todwick Primary School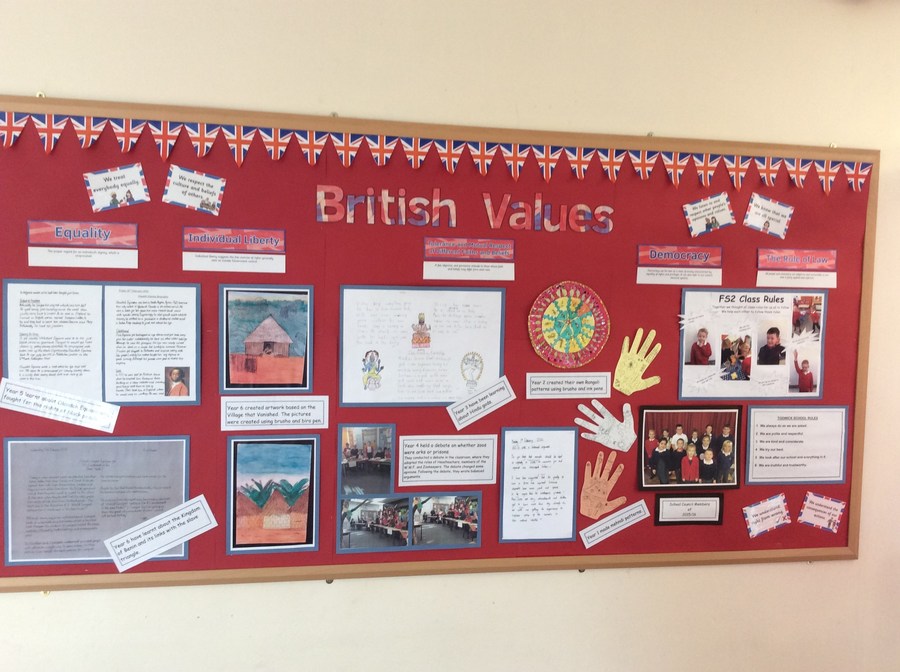 We have a duty to prepare children for life in modern Britain and to keep them safe. The DfE requires that schools "promote the fundamental British values of democracy, the rule of law, individual liberty and mutual respect and tolerance of those with different faiths and beliefs." At Todwick these values are reinforced regularly and in the following ways:
Democracy
Class rules - Each year the children decide upon their class rules and the rights associated with these.
School Council - We have a school's council which meets with the staff and Head teacher to discuss issues raised in class council meetings. Every child on the student council is voted in by their class mates. The council is genuinely able to effect change within the school, for example selecting new dining hall furniture, nominating their favoured charity, removing stuffed animals and agreeing playground rules.
Children partake in an annual questionnaire where they are able to put forward their views about the school.
'Mini FACT' - The parents' association, FACT (Families and Children Together), has recently initiated a pupil group to support their work. The members of mini 'FACT' are voted in by their peers.
Alex Reid Kindness Award – pupils vote annually for the winner in their own class.
The Rule of Law
The Importance of Laws - whether they be those that govern the class, the school, or the country, laws are frequently discussed at Todwick, both within PSHE lessons and assemblies. Pupils are taught from an early age the rules of the school and they sign up to them annually in the Home/School Agreement contract.
Playground Rules and Safety Rules - Pupils are taught the value and reasons behind rules and laws, that they govern and protect us, the responsibilities that this involves and the consequences when laws are broken. Visits from authorities such as the Police and Fire Service help reinforce these messages.
Individual Liberty
At Todwick, pupils are actively encouraged to make choices, knowing that they are in a safe and supportive environment. As a school we educate and provide boundaries for young pupils to make informed choices, through a safe environment and an empowering education. Pupils are encouraged to know, understand and exercise their rights and personal freedoms and advised how to exercise these safely, for example through our E-safety and PSHE lessons.
Mutual Respect
Mutual respect is at the heart of our values. Children learn that their behaviours have an effect on their own rights and those of others. All members of the school community are encouraged to treat each other with respect. Lessons and assemblies reinforce this value regularly. One of our school rules reads: We are polite and respectful in our talk and our behaviour.
Through our curriculum and inclusive ethos we promote respect for all citizens including those of different ability, orientation, age and culture. This is reinforced through visitors to school, e.g. a Paralympic athlete, grandparents, parents from different cultures and older residents.
Tolerance of those with Different Faiths and Beliefs
Todwick is not a greatly diverse school. Therefore we actively promote diversity through our celebrations of different faiths and cultures. We value the diverse ethnic backgrounds of all pupils and families and undertake a variety of events and lessons to celebrate these. Visitors to school have included people from around the world such as a Chinese artist, polish parents, African drumming workshop, etc.
Religious Education lessons, assemblies and PSHE lessons reinforce messages of tolerance and respect for others. Teaching of different faiths and religions helps to enhance learning within classes and the school. The children learn about different places of worship that are important to different faiths. Themed days occur in different year groups every year, e.g. Ancient China day, Divali day, Polish food tasting, etc.
We have found this approach to be enriching for all parties as it teaches tolerance and respect for the differences in our community and the wider world. Underpinning all this is a range of curriculum topics which have strong links to British History.
P.S.H.E. Curriculum
Much of the promotion of British Values is delivered through the Rotherham P.S.H.E. Scheme of Work. The units provide the following coverage:
Y1 The Caring School, Keeping Healthy, Keeping Myself Safe (People Who
Can Help Me and E-Safety)
Y2 The Caring School, Me, My Community and the Environment, Healthy Lifestyles,
Keeping Myself Safe
Y3 My Healthy Body, Rights and Responsibilities, Keeping Myself Safe
Y4 Respecting the Differences Between People, How Do Rules and Laws Affect Me?
E-Safety
Y5 Lifestyles and Cultures, Political Literacy and Citizenship, The Consequences of Inequality
Y6 Growing Up – Responsibilities, Global Citizenship, Global Difference and
Diversity
Social, Moral, Spiritual and Cultural Learning
There are also links between British Values and SMSC (spiritual, moral, social and cultural) learning within our school. Examples of other regular coverage of social and cultural aspects of BV in school include:
Residential visits

Multi-cultural/historical topics (Inuits, Slavery etc.)

Friendship Week

Buddy Systems/play leaders

E-safety Parents' Meeting

Strong links and visits to the local church

Remembrance Day service

Messy Easter and Messy Christmas activities at the church hall

News assemblies

Charity fundraising
Projectability Award
We are proud to have recently achieved this valuable award in recognition of our work promoting sport for pupils with special needs in our region. We support special schools at numerous sporting events across the authority and South Yorkshire. This is a rare award held by only 50 other schools across the country.
Charity Fundraising
This plays a significant part in our school lives, bringing to life our ethos of being a caring school. Every year we fundraise for Red Nose Day, Children in Need and Sports Relief. At Christmas we have participated in the Shoe box Appeal and each Autumn, our Harvest collection goes to 'The Sheffield Cathedral Archer Project' supporting the homeless people in our area.
Celebrating National and International Events
As a whole school, we have celebrated the World Cup and the Tour de France in Yorkshire with a whole school interest as well as learning in each class. We celebrated the Olympics, with visits from Olympic divers and a Paralympic athlete. Over recent years, we have celebrated the wedding of the Duke and Duchess of Cambridge and the births of Prince George and Princess Charlotte with special assemblies and themed lessons. The Queen's Golden Jubilee was another high profile event celebrated by the school.
Global Issues
World events, responses to environmental and humanitarian disasters are regularly considered in whole school assemblies and through age-appropriate class studies. British involvement across the world features in such discussions.
Points for Development .
Members of different faiths and religions to be encouraged to share their knowledge and experiences to enhance pupils' learning and understanding.

The children to visit places of worship that are important to different faiths.