See our newsletters by clicking on the link under the news pencil
The NSPCC visited our assemblies January 2017 to talk to the children about the Speak out, Stay safe programme. This is a nationwide programme for every primary-school-aged child in the UK and Channel Islands. The interactive child-friendly assembly provided important safety information in a sensitive way, discussing issues without using scary words or adult language.
A follow-up workshop will take place on 20th January for years 5 and 6 children. If you would like any more information about the NSPCC Speak out, Stay safe. programme, including frequently asked questions, you can find it on the NSPCC website.
Please park safely and considerately around school
Parking around school can be difficult, especially in the morning rush and at home times. The road outside school is a dangerous place every day because of increasing volumes of traffic, congestion and parking at these busy times. This is an increasingly serious concern for school and for parents. In the crucial interests of our children's safety and out of respect and consideration for local residents, we ask very earnestly that drivers avoid double parking, dropping off on zig-zag or double yellow lines, parking on pavements and obstructing driveways (even partially). Whenever possible it would be beneficial if children who live in the village could walk to and from school. I would sincerely appreciate your serious attention to this issue.
Dates for your Diary
Parents Evenings 7th & 8th February
School closes for Spring break 17th February and reopens on 27th February
Easter bonnets and gardens go on display 3rd April
Easter cake sale & Easter assembly 4th April 2.15 p.m.
School closes for Easter 7th April
(Events and dates are also included in the Annual Calendar and on the school website).
Y3 represented school at Rotherham Minster on 7th December and were the star of the show! They sang beautifully, well done Y3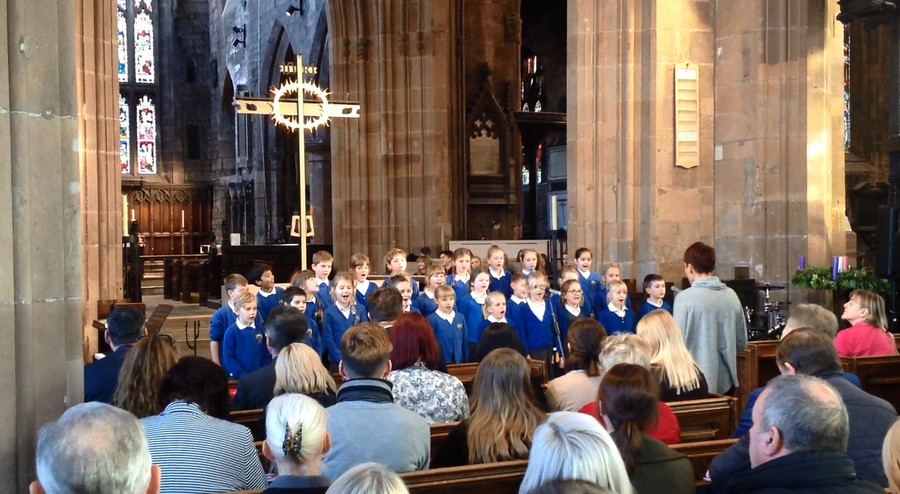 The chicks which hatched in Y2 in October are growing fast and they've now moved into their new home in the courtyard......the 2 cockrells have been found a new home on Mrs Gregory's farm where they can make lots of noise!!
So we only have 2 hens left at school now.